We provide code required fire safety protection for commercial buildings and their occupants throughout Chicagoland. The type of building, how it is used and what municipality it is located in determines the fire protection equipment and fire systems required by local, state, and national fire code. Specific code requirements of a multi-use high-rise in Chicago are different than a restaurant or school in the suburbs.
Although different buildings have different requirements, we all have something in common, that is a place we call home. The following information is provided as a public service to raise awareness of Lithium-Ion Battery and other contemporary fire hazards in your home and what you can do to keep yourself, your loved ones, and your neighbors safe.
Contemporary Home Fire Hazards
Synthetic furnishings, open floor plans, and construction materials of modern homes allow fire to spread and become more toxic much faster. The lithium-Ion batteries in your phone, laptop, power tools, toys or e-bikes can overheat, catch fire, or explode. These modern hazards and risks result in less time for you to escape.
Five Home Fire Safety Essentials:
1. Be Smart when using devices powered by Lithium-Ion Batteries.
E-Bikes are of particular concern as NYFD has linked malfunctioning batteries to about 200 fires last year citywide, resulting in property damage, injuries and death. Similar reports of E-Bike fires come from around the world. See Consumer Reports E-Bike Fires and Lithium-Ion Batteries and the following Battery Safety information from NFPA, download the Lithium-Ion Battery Safety PDF.
---
Lithium-Ion Battery Safety
Lithium-ion batteries supply power to many kinds of devices including smart phones, laptops, e-scooters and e-bikes, e-cigarettes, smoke alarms, toys, and even cars.
If not used correctly, or if damaged, these batteries can catch on fire or explode.
The Problem
These batteries store a large amount of energy in a small amount of space.
Sometimes batteries are not used the right way; batteries not designed for a specific use can be dangerous.
Like any product, a small number of these batteries are defective. They can overheat, catch fire, or explode.
Safety Tips
Purchase and use devices that are listed by a qualified testing laboratory.
Always follow the manufacturer's instructions.
Only use the battery that is designed for the device.
Put batteries in the device the right way.
Only use the charging cord that came with the device.
Do not charge a device under your pillow, on your bed, or on a couch.
Do not keep charging the device or device battery after it is fully charged.
Keep batteries at room temperature when possible. Do not charge them at temperatures below 32°F (0°C) or above 105°F (40°C).
Store batteries away from anything that can catch fire.
Signs of a Problem
Stop using the battery if you notice these problems: odor, change in color, too much heat, change in shape, leaking, or odd noises. If it is safe to do so, move the device away from anything that can catch fire. Call 9-1-1.
Battery Disposal
Do not put lithium-ion batteries in the trash.
Recycling is always the best option.
Take them to a battery recycling location or contact your community for disposal instructions.
Do not put discarded batteries in piles.
Charging an E-bike
Charge your battery in a flat, dry area away from children, direct sunlight, liquids, tripping hazards, and in a location where the e-bike is not at risk of falling.
---
2. Working Smoke Alarms:
As of January 1, 2023, any new smoke alarm being installed in Illinois within a single or multi-family home are required by law to be featured with a 10-year sealed battery. Benefits are no more remembering to replace expensive batteries, or discovering that someone removed the batteries. New smoke alarms have fewer false alarms, they can tell if the smoke is from a toxic sofa cushion fire or if it's from burnt toast. Some models are interconnected – if a smoke alarm at the far end of your home goes off, all of your smoke alarms go off. Smart models are Wi-Fi-enabled to work with your smart-home hub, and send an alert to your phone. See Consumer Reports Best Smoke and Carbon Monoxide Detectors of 2023 to help choose what's best for your home.
---
3. Close Before You Doze:

Closed bedroom doors and windows provides a barrier between the fire and oxygen, this simple step can slow the fire from spreading, providing more time for you to escape. See the dramatic difference a door can make in this video by FSRI, the Fire Safety Research Institute.

---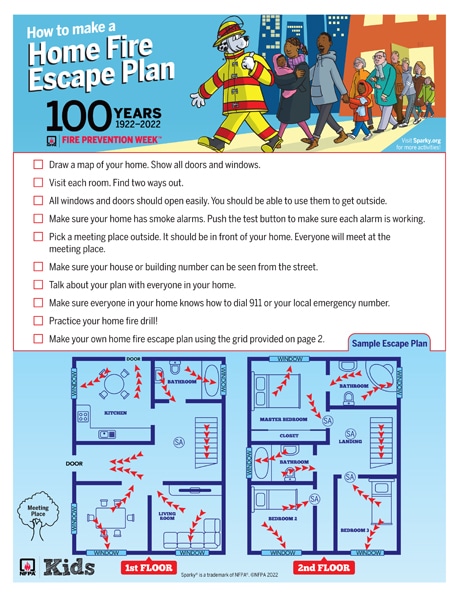 4. Prepare and Rehearse Your Escape Plan:
See NFPA's worksheet on How to make a Home Fire Escape Plan.
---
5. Fire Extinguishers:

Know how and when to use an extinguisher. See our Fire Extinguisher Training Demonstration Information Page which includes PDFs on How To Use a Fire Extinguisher and Video of our Training Demonstration.
---
About Fox Valley Fire & Safety
Fox Valley Fire & Safety meets all of the fire and safety needs of our customers from on-site surveys, CAD services, installation, monitoring, service, inspection and repairs, to the testing required to assure compliance with NFPA and local codes. Our uniformed technicians are licensed, certified and factory trained. We are 100% Employee Owned.
Resources:
NFPA National Fire Protection Association
– How to make a Home Fire Escape Plan
FSRI Fire Safety Research Institute
IFSA Illinois Fire Safety Alliance
– New Rules for Fire Safety
– Best Smoke and Carbon Monoxide Detectors of 2023
– E-Bike Fires and Lithium-Ion Batteries